Social Justice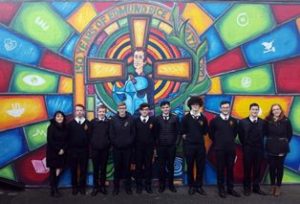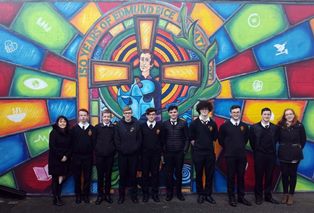 The Abbey Social Justice team was formed collectively in 2017 after two groups, the Year 13 Advocacy Leadership Team and the Year 14 Faith in Action Leadership Team worked throughout the academic year of 2016-2017 to promote awareness of social injustices and also put into action work to make a difference to those in the local, national and international community.
The work of social justice has been a key part of the school for many years now though with many other key aspects already being carried out such as the Zambia Immersion Project and many fundraising activities carried out across many departments in the school. The Zambia Immersion Project will form a key part of the Social Justice Team as well as the newly created Edmund Rice Camps which began in the Summer of 2017. The four groups collectively form the pillar for social justice in the Abbey Christian Brothers' Grammar School (CBGS).
Faith in Action Leadership Team
Under the guidance of the RE Department, a group of Year 14 volunteers will work closely with him and be provided with the opportunity to put their faith into action and develop themselves as individuals as well as part of a team whilst building their leadership skills by leading many initiatives to help many in society.
School life in the Abbey CBGS aims to educate students to live justly in their own lives and to strive for peace and justice for others. Within the Social Enrichment programme the students are encouraged to think and to act compassionately within the school, the local community and society. The students were provided with opportunities to showcase their God-given potential and to promote leadership skills through a variety of projects to enable them grow and develop spiritually, morally, socially and culturally. This year they were involved in many events including;
Mary's Meals and collecting back packs with stationary for Malawi.
Fair Trade Event – Selling fair trade chocolate in school.
Christmas Party at Ashgrove Nursing Home and visiting with Easter Cards and daffodils in the lead up to Easter.
The Abbey Sleepout – Raised over £500 for local charity.
The BBC Schools Project – Linked with the Advocacy Leadership Team to create a video report on the work of the social justice teams in school which was published on the BBC news website.
Advocacy Leadership Team
In its first year, the Advocacy Leadership Team was made up of a group of Year 13 students under the guidance of Mrs McGrath, Mrs Farrell and Miss McQuillan. They worked to build awareness of social justice as well as link with Mr Harvey's Faith in Action Leadership Team to carry out fundraising initiatives throughout the year.  The chosen focus by the students in the 2016-2017 was homelessness and this will continue into 2017-2018 with both Year 13 and 14 students volunteering to be part of the team. In 2016-17 they took part in many activities to raise awareness of homelessness including;
Linked with the Westcourt Centre in Belfast and attending an event for Homelessness Awareness Week in November 2016.
Visited Rosemount House in Belfast in January 2017 with Cormac McArt from the Westcourt Centre.
Penpal links with St. Kilda CBS in Melbourne who have an Advocacy programme well established.
Organised Fr Peter McVerry to come and speak to Year 12 students.
The BBC Schools Project – Linked with the Faith in Action Leadership Team to create a video report on the work of the social justice teams in school which was published on the BBC news website.
Presented an assembling to Key Stage 3 classes on the homelessness crisis and the work of the Advocacy Leadership Team.
Visited the Peter McVerry Trust in Dublin in June 2017
Zambia Immersion Project
Our school's Zambia Immersion Project is now in its 18th year. From its inauguration in 2003 our International Social Justice project has been a core principle underlying our school work as a faith based community.  Our links with the community of Livingstone has enabled both our pupils and staff to live out their Christian values by engaging in a journey of compassion and justice whilst both preparing for and spending time in Livingstone.
The Zambia Immersion Project has in a crucial way improved the living conditions and education for local communities in Livingstone.
In preparation for the trip to Zambia, the selected students carry out a number of fundraising projects. They learn how to be creative in their fundraising approach through the marketing and preparation of various fundraising events both individually and collectively – spinathons, jersey designing and selling.
Edmund Rice Camps
We hosted the inaugural Edmund Rice Camp from Monday 3rd July to Friday 7th July 2017. The Edmund Rice Camps are a completely volunteer run organisation run by young adults between the ages of 17 and 18. It is a week-long camp to give young primary school children a chance to make new friends in a fun-filled, supportive environment.
The Camps are driven by the vision and inspiration of young committed volunteers from our school and in collaboration with our local Sacred Heart School students. We had over 50 ER leaders from Abbey CBS and Scared Heart GS with 30 children from St Claire's Abbey, Newry. The young adults were enthusiastic, motivated young people that were willing to engage with the young children in a warm friendly and compassionate manner. They underwent child protection and other leadership training prior to camp.