Spirituality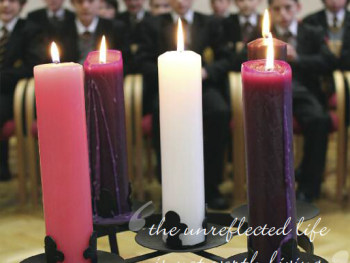 THE PRAYER LIFE OF THE SCHOOL
We live in a world where the one constant is change. Life is lived at an increasingly hectic pace and despite all our sophisticated gadgets and modern conveniences, our time has become more pressurised than ever. Yet as the philosopher, Socrates, said so long ago, 'the unreflected life is not worth living.'
Here in this school of excellence, we realise how precious time is and how it needs to be managed to effectively harness and develop the gifts and talents of the whole school community. Time for study, for work, for recreation and for reflection are critical for both the well being of the individual and the community. Life needs to be balanced and prayer is the fulcrum which protects the quality of our life. Time apart to focus on our spiritual needs is an absolute must if we are to become fully functioning and fully active. As St. Irenaeus said, 'The glory of God is man fully alive.'
To be fully alive we are called by our very nature to recognise the divine in our world, in ourselves and in one another. Prayer enables this sensitivity to grow. Prayer is to the soul what air is to the body. Without oxygen we can't function; we die. Without prayer we can't function spiritually, we are on a starvation diet; we can't embrace the fullness of life that Christ came to offer.
'I came that you would have life and have it to the full,' is how Christ explains his mission and this is the raison d'etre of any Catholic community, to help the members own this eternal truth.
As a Catholic community we will endeavour to foster a climate where prayer is an integral part of the school day, both collectively and individually. We recognise that there are a host of ways to pray, myriads of beautiful spiritualities which lead the pilgrim closer to God. Our hope is that the young people under our care will have an opportunity to experience a range of these and hence find one with which they feel at home and wherein they can express the beauty and the variety of the Catholic heritage. In particular, we will promote the rich legacy of Blessed Edmund Ignatius Rice and the spirituality of the Christian Brothers.
All of us have been prayed to this point in our lives. We are heirs of a praying community and the prayer life of the school is all our responsibilities, staff, students, chaplain, clergy and parents. We become a vibrant faith community by sharing our mutual faith, by recognising that at times we are on different stages of the journey, at times on different routes, and by respecting the rights of individuals to choose the pace at which they begin or continue the journey. Ultimately all of us have the same destination and all of us are equal on the pilgrimage. Each of us has a telling contribution to make, our own giftedness to share. Prayer enables us to welcome, to affirm and to call forth the beauty and the talents of one another as we seek to follow Christ.
Development of Spirituality within the School
The following Actions will be undertaken during the Year
• Create a Chaplaincy Group (SMT, R.E., others)
• Class Masses for Year 8 – 12 instead of a Year Group
• SMT link with R.E. Department for preparation of these Masses
• Year 8, 11 and 13 Retreats to continue with the involvement of staff
• Provide information/help regarding John Paul II Awards
• Trial further classes in R.E. on Centering prayer
• Ensure focus on care of students who are experiencing difficult situations at Friday Pastoral  meeting
• Ensure focus on care of staff who are experiencing difficult situations at SMT meetings where appropriate