Edmund Rice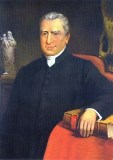 Edmund Rice was born in Callan, Co. Kilkenny in 1762, He was the fourth of seven sons born to Robert Rice and his wife Margaret Tierney. Having received a sound education in his own home town he went as an apprentice businessman to his uncle in Waterford city, Michael Rice. He had a flair for business and still a young man amassed considerable wealth. He married at the age of 23. Within a few short years Edmund's wife died tragically leaving him with a retarded daughter, Mary. These events had a profound effect on him.
Following his wife's death Edmund made arrangements for the caring and upbringing of his handicapped daughter. He continued to develop his merchant business but more and more his thoughts turned to God and the care of the poor and destitute who were to be found all around him in the city of Waterford. He became, during these times an avid reader of the bible. Gradually he was led by grace to abandon his successful career. In 1802 he devoted his wealth to founding free schools for boys.
He was joined in his endeavour by other young men inspired by his example. In 1808 Edmund Rice and those who joined him were permitted by Bishop Power to pronounce vows. They became known as the Society of the Presentation and lived under the guidance of their Bishop. In 1820 Pope Pius VII granted recognition to Edmund and his followers as a Pontifical Institute – the Congregation of Christian Brothers.
In 1993 he was recognised as Venerable by Pope John Paul 11. 1994, being the 150th anniversary of his death, saw worldwide celebrations recalling the great impact and gift this man was to the Church. At present the cause for the Canonization of Edmund Rice is making very good progress in Rome.
Prayer of Edmund Rice
O God, we thank you for the life of Edmund Rice.
He opened his heart to Christ present in those oppressed by poverty and injustice.
May we follow his example of faith and generosity.
Grant us the courage and compassion of Edmund as we seek to live lives of love and service.
We ask this through Christ our Lord.
Amen.