First Year Induction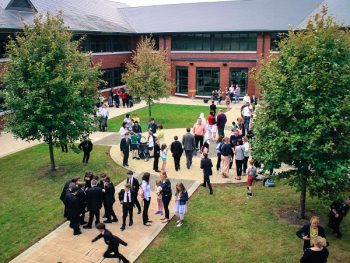 Welcome. Induction begins with a whole year group Mass in June before your son starts the Abbey. The following week, each individual pupil and parents will be invited to meet the Headmaster to begin the process for getting to know your son. The Year Head will then make contact with Primary schools and will often visit schools to ensure that the transfer of information is a smooth process.
In term one, we will do the following:
 A two day Induction including school routines as well as fun activities.
Two senior pupils to accompany each class for the first week to iron out any problems and to act as a friendly face and a mentor.
1st Year pupils are released earlier from class on the first few days to help canteen and bus arrangements.
A series of Outside Speakers addressing the year group.
A parents and pupils quiz organised by the Abbey Parent Teacher Association (A.P.T.A.) to help pupils settle in.
A 1st Year trip in term one to help friendship building.
All supported by an excellent team of Form Teachers and Year Head.
Moving to Abbey CBGS 2023 2024
1st year newsletters are sent out monthly via the school App.