Do It For Daniel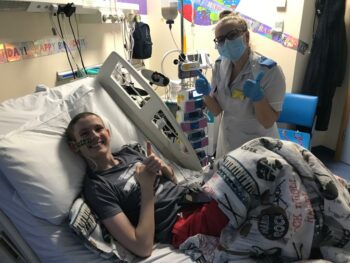 Date Posted: 23rd October 2022
Do It For Daniel Update – October 22 
The big smile says it all! 😃
We're delighted to announce that our Daniel has safely received his stem cell transplant! 🥳🤩
The procedure took place in Bristol Children's Hospital on Friday afternoon and it took exactly one hour to complete.
He was feeling great afterwards and even managed to pose for this photo with his nurse. We're very relieved that it's all gone smoothly so far and very grateful to the wonderful staff in the ward for looking after him so well. While the road to recovery is going to be a long one, hopefully this is the start of Daniel's journey back to full health.
We're so glad to share this happy news with all our followers who have supported the #DoItForDaniel campaign. The future for our favourite 15 year old now looks bright again. But this hope is only possible due to the kindness of a complete stranger who signed up to the bone marrow/stem cell register and then agreed to donate when they got the call to say they were Daniel's match.
Please continue to spread the word about the #bonemarrow register and tell your friends what a difference it can make to #bloodcancer patients like Daniel. And please keep him in your prayers that everything keeps going in the right direction, so we can get him back home as soon as it is safe to do so! 🙏
---
The most fantastic news for us to hear and to share with our community.
#DoItForDaniel
We have some brilliant news that at last we can now share – a suitable donor has been found for our Daniel! 🥳
This amazing person came forward several weeks ago but as you can imagine, there are lots and lots of laboratory checks that have to be carried out before doctors can be sure they are the best possible match.
We had got our hopes up before but this time, fingers crossed, it's all systems go. Daniel should be heading to Bristol next week to be prepped for what we hope will be a life-saving transplant. 🙏🙏
We know there is still a long, risky road ahead and Daniel may have to get a lot sicker before he gets better. He will have to spend several months in isolation with only his mum and dad allow to visit. But finding the right donor has at least given him a fighting chance against #leukaemia.
We are incredibly grateful to everyone who has supported us on this rollercoaster journey so far…
– all those who helped us fundraise for blood cancer and bone marrow charities
– all those who organised and attended #DoItForDaniel events
– all those who trained up to recruit new bone marrow donors
– all those who donated, printed and distributed our campaign posters, banners and flyers
– and the THOUSANDS of people who signed up as bone marrow/stem cell donors in response to Daniel's story
We have so many individuals, charities and local businesses to thank, we can't do it all in one post but we'll be doing a few very well-deserved shout-outs this week before the family heads to Bristol.
Finally, we are acutely aware that although our Daniel has been very lucky, there are many other patients who are still waiting anxiously for the right donor to step forward.
Please keep telling everyone you know about the importance of signing up to bone marrow registers. Just like our incredible kind-hearted donor, your blood really has the potential to save a life! 💕hear and to share with our community. #DoItForDaniel 🙏
One of our own, Daniel Greer, has been diagnosed with leukaemia.
He needs your help now.
Daniel needs a stem cell donor and you could be a match. It only takes 2 minutes to register and have a swab kit sent out to you.The swab sample takes 5 minutes to do
#DoItForDaniel
Please read his brother James' post and consider registering to help Daniel and the many others who are in need of your help.
#DoItForDaniel
My little brother is one in 10 million but he URGENTLY needs your help!
Just over two weeks ago, our family got a terrible shock when my 14-year-old brother Daniel was diagnosed with leukaemia. Daniel has AML (acute myeloid leukaemia) meaning it has spread rapidly and aggressively. He is in hospital and has just completed 10 back-to-back days of very intensive chemotherapy, sometimes having to take four doses in a single day.
During this time, he has needed three units of blood and two platelet transfusions (shown below and circled in the photo below). If you know our Daniel, and most of you do, you'll know he never backs down or gives up easily! He is battling through it like the little fighter he has always been and we are hopeful that we have caught it early, but this is where we need YOUR help.
In the coming weeks, Daniel should have a bone marrow sample test result back which will tell doctors if the best approach is to continue with more chemo or if he needs a bone marrow transplant to help fight it.
The problem? The chances of getting a bone marrow match is 1 in 10 MILLION!! Please, please, PLEASE take the time to go to the link below or go online to the DKMS website to register as a donor. It can take up to 8 weeks from registering to actually be placed on the register, so we need you to register NOW!
It only takes 2 minutes to register and have a swab kit sent out to you. The swab sample only takes 5 minutes to do and below I've created a video to show how simple it is, (with the actual sample taking method shown at 2 mins 50 secs in the video).
YOU could be the match that Daniel needs! YOU could make the difference!! YOU could be the match that someone on the other side of the world is currently praying for, waiting and hoping that YOU are out there and willing to save their life.
Essentially you could save someone's life in less than 10 minutes, and without even leaving the house! So what are you waiting for? All I ask is that you take 2 minutes to register as bone marrow donor or a blood donor. You may never get called upon but you could possibly save up to 7 people's lives! You could make the difference!! Please, do it for Daniel!!
Link for DKMS registration:
Link for NI Blood Transfusion Service:
Link for those living in the Republic of Ireland: