Abbey Crest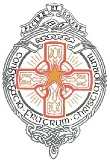 The design which the Christian Brothers use as a Crest is full of symbol.
THE STAR is a symbol of enlightenment, guidance and instruction. "Those who instruct many to justice shall shine like stars for all eternity. (Dan:12:13)
THE CROSS is a symbol of Christ, for the Brother is concerned with the spreading of Christ's Kingdom on Earth.
THE CIRCLE is a symbol of eternity and of the eternal values to which a Brother is committed.
THE BOOK is a symbol of learning which the Brothers impart to the young. The two Greek letters, Aplha and Omega, remind us that God is our first beginning and last end, that all knowledge begins and ends with him.
THE MOTTO – FACERE ET DOCERE, "to do and to teach" reminds the Brothers that they must live out the Gospel which they preach; they must be "doers" of God's message as well as Bearers, they must lead others by their own example.
CONGREGATIO FRATRUM CHRISTIANORUM: Congregation of Christian Brothers in Latin.
CELTIC DESIGN AND LETTERING: A symbol of our Irish Origins.