Young Software Engineers Win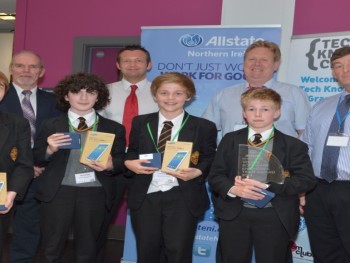 Date Posted: 26th June 2014
Tech Know Club
The school participated in a Tech Know Club programme run in partnership with Ashfield Girls High School and funded by All state. Two STEM ambassadors (Past pupils Cormac Markey and Michael Murphy ) were allocated to our school, to help guide interested Year 9 students through the programming skills required to enable them to participate in the programme and take part in a final challenge which took place in Ashfield Girls High school on 20th June 2014.
Four afternoon sessions were planned, however due to our transformation not all of these sessions were able to take place.
On competition day the Abbey faced stiff competition from Aquinas Grammar, Ashfield Girls, Ballyclare High, Campbell College, Portora College, St Colm's High School, St Patrick's Academy and Wallace High School.
Our students performed exceptionally well on the day and the Abbey students should be congratulated on winning this prestigious competition achieving the title "Young Software Engineers Team Award 2014". All students and Mr Mc Cann, the competition coordinator were presented with a Samsung tablet and a range trophies.