YEAR 8 LEAGUE WINNERS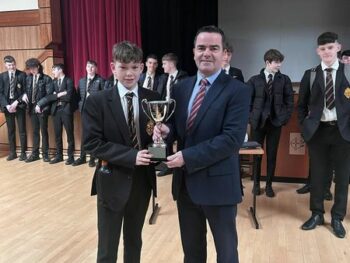 Date Posted: 27th January 2023
🔴⚫️🟡YEAR 8 LEAGUE WINNERS 🏐🏐🏐
Congratulations to S L E M I S H 8, winners of the Abbey Year 8 league.
1️⃣ Sean Óg Doherty is presented with our brand new Year 8 League winners cup by Acting Principal, Mr Ruddy.
2️⃣The whole class of Slemish 8 were presented with their winners medals and cup.
3️⃣Slemish 8 pictured with their management team, Year 11 students: Tiernan Quinn, Dylan O'Reilly, Caoilte Jones, Cillian Muckian, Louie McCreesh and Eoin McCreesh. Thank you to all the Year 11 mentors for their support and commitment with the Year 8 students. #givingbackfeelsgood