The GIFT Programme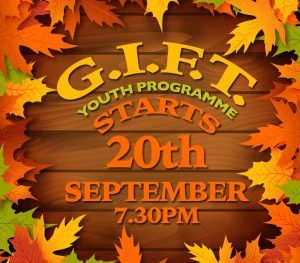 Date Posted: 12th September 2017
Our Gift 2 and 3 programme for second and third year students begins on the 20th September and will run every Wednesday for 6 weeks until 25th October in Newry Conference & Banqueting Centre, The Mall, Newry from 7.30pm ‒ 9.00pm.
Each Wednesday will cost £3 and will combine a different fun activity Introductory games, art, sports and much, much more. These are some of the activities planned so if you are a second or third year student or you have completed our Gift 1 programme, why not come along and join us, meet new friends, try new things and have fun.
Or if you are over 18 and would like to be a leader for the Gift Programme, please contact the Parish Office, email [email protected]. First evening starts at 7.00pm.