Senior Challenge Quiz Finals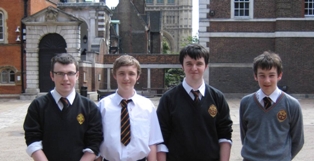 Date Posted: 7th May 2011
After making it to Winchester for last year's Junior Quiz Finals, I was hoping to emulate our success with the senior team.
The quiz follows a format similar to University Challenge: a starter question is read out, and the team quickest on the buzzer who answers correctly gets 10 points, along with 3 bonus questions, worth 10 points each. You also get an additional 10 points if you get all 3 bonus questions. It lasts half an hour.
The four of us met at lunchtime for a quick meeting under the guidance of Mr Gamble. The two seniors were Daire McAteer and Garbhan McKevitt, and the other junior was James McKevitt, another third year. Thus begun our preparation of once or twice per week for the trip down to Belfast Inst. for the regional final.
In Belfast we were divided into two sections, one of four teams, and another of three. One team was to get a bye, which, luckily, was us. We sat down to watch Sacred Heart lose in a close match to Loreto B.
We went into our semi feeling relatively confident, which helped us, as we got a lot of starter questions quicker than our opponents. We ended up winning quite comfortably in the end, but in the final we were to play Loreto College Coleraine A team, who we heard were "pretty amazing." Hearing that before a final certainly doesn't help nerves!
However, we started well, and at the halfway stage, we had quite a strong lead. We continued this on, answering the starters just quicker. We ended up winning by 200 points and we were heading back over to England.
For practice, we categorised some past questions and each took sections to work on. We met after school and at various lunchtimes right up until the day before the quiz.
On 7th May, we all headed to the airport for a short flight across the water. That night we had a meal and walked long the river and were able to se the Houses of Parliament. We crossed the Millennium Bridge to the London Eye. This was all quite late and unfortunately the London Eye was closed.
The next morning we took the underground to Westminster, and after some head scratching, eventually found the school. The organiser of the whole thing gave us a quick pep talk before we were again divided into two groups of 4. Again, we were in the second group and yet again, were up second. We therefore watched a close game, which took a bit of a turn, as one of the players questioned an answer causing a long, funny dispute.
"We are not doing that!" Garbhan joked. The match finished with a flattering scoreline for King Edward's, after being extremely close for the first 20 minutes of the match.
It was now our turn. We took our place to play Exeter Cathedral College and unlike our performance in our regional final, made a horrible start, going 110-10 down early. However, after a good set of bonuses on Irish politics, we made up the difference and eventually took the lead. After trading bonuses, we held on for a great win of 70 points. We were into the semi-final, and had already bettered last year's result.
After lunch (mac and cheese), we were to play the winners of the first game we'd watched; King Edward's College. Yet again, we started poorly, going down 140-0 down. We did get back into it, and came close to taking the lead, but our opponents were a strong team, and we could never close the gap and so we eventually lost.
We were extremely happy with a top four finish, and after watching King Edward's score an astonishing 1100 points to beat Westminster School in the final, we could happily say we were only defeated by the eventual winners.
After a long, cramped underground trip to Heathrow, and a close run journey to catch our plane, we eventually made it back onto Irish soil, after a great trip.
Unfortunately, our captain, Garbhan, is leaving at the end of this school year, but we will still have three of the four team members left, so I hope we can get to England again three years running and perhaps go one step further.
Eoin Monaghan.