Ross Brady role of a Civil Engineer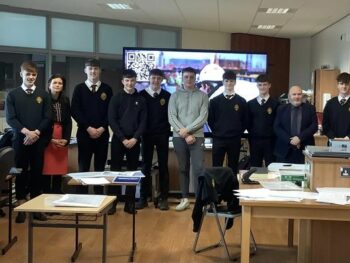 Date Posted: 23rd February 2023
🔴⚫️🌕
The Abbey Construction Department would like to extend a huge thank you to Ross Brady, our deputy Head Boy last year, now studying Civil Engineering at Queen's University, Belfast, for delivering a fantastic and inspirational presentation to our Year 12 GCSE and Year 13 & Year 14 BTEC Construction students on Wednesday 6th February, just before the mid-term break.
The students learned about the qualifications required to study Civil Engineering, what the course entails and the role of a Civil Engineer.
As a recipient of an ICE QUEST Scholarship and a QUEST ambassador, Ross explained how students could apply for this prestigious scholarship, the benefits including an £8,000 bursary over the course of study, as well as the links and opportunities of being sponsored by, skills development and employment opportunities by large Construction and Engineering companies.
Ross also gave some valuable tips and advice for our students on moving to university or studying for a HLA. Our Construction students thoroughly enjoyed the talk and we look to Ross coming back to the Abbey in the near future.
Ross is pictured with Head of Construction, Mr Savage and Ms Cranston.