New World Record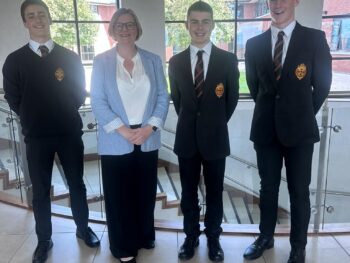 Date Posted: 8th September 2023
Fridays don't really get much better than this. They've only gone and done it 👏👏👏 A massive well done to Niall, Daniel and Tom.
The commitment, sacrifice and sheer determination has paid off. Our school community is so proud of all these young people, especially our boys. ❤️🖤🧡
Swim completed ✅ and nearly £15,500 raised.
Please check out Red hot chilli dippers if you would like to donate.
Starting tomorrow at 4:30am, 12 young people (2 relay teams of 6) including 3 of our own students Tom Magill, Niall McManus (Year 12) along with Daniel Smyth (Year 13) will attempt a new world record breaking challenge, to become the youngest ever relay team to cross the North Channel. 🏊‍♂️
We still can't get our heads around it, but what these young people have committed to is nothing short of
A M A Z I N G.
Our Principal, Mrs Savage, is seen wishing the students every success 👏👏
Red hot chilli dippers
❤️🖤🧡