Millennium Volunteers scheme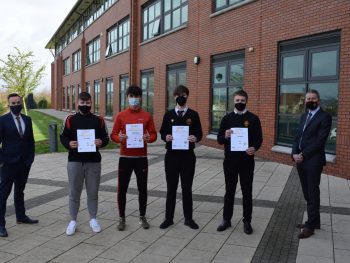 Date Posted: 19th March 2021
An incredible feat has been achieved by these Abbey Yr.13 & Yr.14 students having amassed in excess of 2000 hours given for local charities and clubs, in what has been a challenging year for everyone as a part of the Millennium Volunteers scheme.
A significant group of these boys have volunteered within the area of mental health support, both in and out of school.
This group of young people are fantastic ambassadors for our school and we are extremely proud of them and their endeavours.
Also in the pictures are the Year Tutor for Yr. 13 and MV coordinator Mr Rodgers and the Principal, Mr Sloan.
200+ hours achieved by Ross Brady, Rory Casey, Cillian Quinn and Conor Burns'.
50-100+ hours achieved by Michael Connell, Comghall Canavan, Mark Lennon, Aidan McCartan, Tomas McKay, Jack Downey, Sean Fitzgerald, Gareth Martin, Piarais Murphy, Lorcan Haughian, Cillian McArdle, Senan Morgan and Ruaidhri O'Shea.