Mac Rory Quarter Final set to be a local derby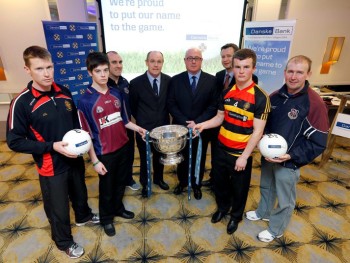 Date Posted: 17th December 2012
Abbey CBS and St. Paul's MacRory Cup representatives, Chairman of Ulster Colleges, Seamus Meehan, and representative from Danske Bank, Danny Stinton, after the draw was made for the Danske Bank Ulster Colleges Mac Rory Cup Quarter Final.
Abbey are set to play their local rivals St. Paul's, Bessbrook, early in the new year, in the Danske Bank Ulster Colleges Mac Rory Cup, after the draw for the quarter finals of the competition was made recently in Belfast.
Chairman of the Ulster Colleges, Seamus Meehan made the draw alongside representative from Danske Bank, Danny Stinton.
No date or venue has been confirmed for the match as of yet. Keep an eye on the Abbey Facebook and twitter page to find out when the match will be taking place.
Ulster Colleges' Football – MacRory Cup quarter-final draw
St Paul's Bessbrook coach John Rafferty appeared slightly bemused with the re-action when his team were drawn against Abbey CBS in the Danske Bank MacRory Cup quarter-finals at a reception in Belfast yesterday.
This was the only one of the four pairings to animate the other coaches, players and media.
"This time last year we were waiting on the MacLarnon draw and very few were taking any notice of us at all. A year has made a huge difference to how others perceive us, and I suppose how we perceive ourselves."
"However the way I was looking at it was that whoever we drew would be a huge game for us. As far as I am concerned, the competition starts here. No-one wins the MacRory on what they do before Christmas."
But he had to acknowledge that St Paul's performance in the pre-Christmas league competition had made an impact.
"We have been playing very well and we will need to keep turning out big performances. We want to win this competition naturally and a draw like this will create a huge interest in our area with boys from the same club teams now in opposition in such a big competition as this."
"There are seven other crafty operators there in the room who are cute enough to talk the opposition up and play their chances down. The draw is made and we have a tough one."
"We played them in a Rannafast Cup semi-final a couple of years ago, the equivalent year groups and they beat us by a couple of points. So we know they are useful."
Abbey coach Jody Gormley was playing "the crafty operator" card.
"Their MacLarnon and All-Ireland wins really boosted them and they have been the form team of the league. We couldn't have got a harder draw. But you don't get easy draws in the MacRory. I think that it will create huge interest in the Newry and south Armagh area."
"St Paul's win over Maghera in the MacCormack Cup means that they are the only team to have beaten this Maghera group through their school careers and that makes them a real test for anyone."
St Patrick's Maghera have a repeat of last March's final with St Michael's Enniskillen ahead of them, but coach Martin McConnell was keen to stress that there were few similarities.
"We have changed from last year and not one of St Michael's line-up is available to Dominic this year. So it isn't an opportunity for us to go for revenge."
"Talk to anyone here today and they will all tell you that they have a hard draw and we are no different. We won't be taking it easy over Christmas."
A decade on from the last of their 13 titles, and despite their recent defeat to St Paul's, Maghera are being touted as competition favourites a fact acknowledged by Enniskillen coach Dominic Corrigan.
"We got the team that everyone wanted to avoid, didn't we? We got them, we have to take them and we now really have to prepare for it."
"We qualified through a play-off, so we could have done with something easier than Maghera."
The other two games also look quite enticing – St Colman's Newry v Omagh CBS and St Macartan's Monaghan v St Patrick's Academy Dungannon.
Incidentally Omagh v St Colman's is the only one of the four quarter-finals that has two sides that met each other in the league in opposition.
St Colman's met Omagh in the first league game and won 2-7 to 1-6.
The draws for the quarter-finals of both the Danske Bank MacLarnon and O'Doherty Cups also took place at the event hosted by the sponsors.
A fancied St Patrick's Downpatrick pulled Our Lady's Castleblaney out of the Cup while another fancied team and 2011 champions St Mary's CBS Belfast will play St Louis Kilkeel.
And last year's MacLarnon finalists St Columb's Derry should be one of the favourites for the O'Doherty Cup – but they are going to have to win it from the preliminary round.
Danny Stinton, Head of Marketing Services and Business Products at Danske Bank said: "This is the first year we have sponsored the MacRory Cup and we are very proud to be associated with a tournament with such long history, prestige and standards. Our partnership with Ulster Colleges reflects not only the importance Danske Bank places on local relationships in the community, but also our focus on providing opportunities for young people – in this case to develop their sporting talents and teamwork skills. We wish the best of luck to all the teams."
MacRory Cup quarter-finals – Wednesday 6th, Friday 8th and Saturday 9th February 2013.:
St Patrick's Academy Dungannon v St Macartan's Monaghan
St Patrick's Maghera v St Michael's Enniskillen
St Paul's Bessbrook v Abbey CBS
St Colman's Newry v Omagh CBS