Love for Life visit the Abbey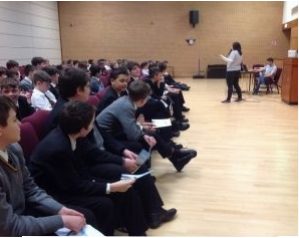 Date Posted: 15th November 2017
The Love for Life team paid their annual visit to the Abbey today and delivered their RSE programme to Years 8 and 10. Both groups thoroughly enjoyed their respective workshops and gained a lot from today's visit.
Year 8 workshop: i:zone is our exciting programme for pupils who are in the early stages of their post-primary education. We encourage pupils to investigate the structure and function of the human body and its amazing capabilities before looking at some of the pressures of growing up. Pupils will identify and examine various influences on their lives and think carefully about how these can bring them closer to their identified goals and targets.
During this action packed presentation pupils think about the many changes that young people experience and identify strategies for managing those transitions. The presentation concludes with an interactive activity that equips your pupils with the skills to be assertive and to say no to negative pressure.
Year 10 workshop: At Love for Life we recognise that young people today face tremendous pressure from many places and often find themselves confused about who they should be listening to. Icebergs & Babies is our presentation aimed at 14/15 year old pupils and begins by looking at the types and sources of pressure that young people face on a daily basis.
A recent survey stated that young people are exposed to approximately 90 000 images of sex from the media between the ages of 8 and 18 so we take some time to look at how the media uses sex to sell us products and keep our attention as viewers. The emotional aspect of relationships, pregnancy and sexually transmitted infections are key aspects of this programme.
Some of the Year 10 students enjoying today's presentation.