Junior Pupils Win At Sentinus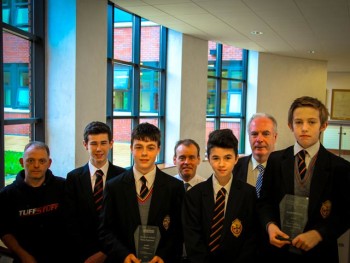 Date Posted: 8th October 2014
Abbey Christian Brothers' Grammar School Junior Pupils win awards at Sentinus Science and Technology Competition in Odyssey.
Four junior Technology experts from the Abbey Christian Brothers' Grammar School, Newry, impressed judges in the Annual Sentinus Science and Technology Competition, held at the Odyssey Centre, Belfast in June and came away with a number of prestigious awards. They entered the competition after being involved in the 'Technology Club' in their school, where pupils and teachers stay after school to solve problems by designing and manufacturing products, using a variety of materials and control processes, including electronics, mechanisms, pneumatics and computing control.
The Technology Club is open to all pupils throughout the school from years one to seven. The Young Engineers is an annual competition that enables young people aged 11-25 years to demonstrate their ingenuity and inventiveness. It is the biggest event of its kind in UK and offers a showcase to education and industry of the wealth of innovation and creativity amongst young people in UK schools and colleges offering a platform for pupils to put ideas into practice. The club meets several times a year as events demand.
The Young Innovators has now become a regular annual event at the Abbey, enjoyed by teachers and pupils alike. It is organised regionally by SENTINUS. It was held in the Odyssey and is the biggest of its kind in the UK.
Group Project specially prepared for the Young Innovators Competition -Killian Higgins, Jack Murphy, Cian Brady and Brendan O'Shea Winners of the KS3 Technology Category & Winners of a Special Award for the Best Use of Software in Education.
The pupils were assisted by Mr T Mooney and Mr S Higgins