Irish Oral Awards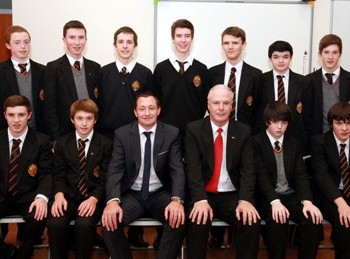 Date Posted: 10th December 2013
The most fluent speakers of Irish in the Annual Abbey Irish Oral Awards share £1050 Gaeltacht Scholarship.
Mr Jim Finnegan, past pupil of the Abbey and CEO of JMC Mobile warmly congratulated each award winner.  Equally proud of his 'Silver Fáinne' Mr Finnegan encouraged the boys to continue to go to the Gaeltacht.  To assist with this each award winner has been gifted a £150 Gael-Linn scholarship to Machaire Rabhartaigh. Also in the photograph is the Principal, Mr Dermot McGovern.
The trophies are dedicated to former members of staff who either taught Irish, or contributed to the promotion of the language in some capacity or in one case to a former student who excelled in the subject.
The first year trophy (Bás Chuchulainn) dedicated to the late Brother Beausang was awarded to Eoin Carr.
The second year trophy (Méabh agus an Donn Chuailgne) dedicated to the late Mr. Patrick Arthur Crinion, a former teacher of Irish and the Classics, was awarded to Dan Foster and Eoin Lane.
The third year trophy (Corn Durkin) dedicated to the late Matt Durkin was jointly awarded to Aodhán McEvoy and Daniel Kehoe. Following the sudden and unexpected death of this former Abbey student, his classmates decided to present an award to the school in his memory. Ever since, it has been presented annually to the best Gaeilgeoirí in third year and indeed it lead to the decision to present similar awards to each of the other year groups.
The fourth year trophy (Clann Lir) dedicated to Brother Aidan Quinlan, who during his time in the Abbey was a founder member of Féile Scoildrámaíochta an Iúir, was jointly awarded to Michael Jordan and Ronan Lavery.
The fifth year trophy (Bás Chúchulainn) dedicated to the late Brother W. O. Murphy, former Head of Irish and Vice-Principal of the Abbey, was awarded to Andrew McAteer.
The sixth year trophy (An Lóchrann) dedicated to Mr. Hugh Murphy, Lislea poet and former Head of Irish, was jointly awarded to James McKevitt and Aodhán Gregory.
The award for the best 'Gaelscoláire'(An Lóchrann Beag), was jointly awarded to Tom Magill and Ruairí Kernan.