GCSE Results 2012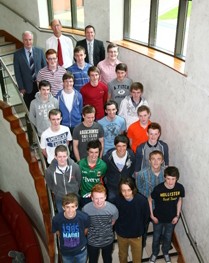 Date Posted: 27th August 2012
EXCELLENT GCSE RESULTS IN ABBEY GRAMMAR SCHOOL
A delighted Headmaster, Mr Dermot McGovern, thanked staff and parents and congratulated all the students who received GCSE results. He paid tribute to, not only the boys who had done exceptionally, well but also the boys who had done as well as they possibly could. He believes that a number of factors have combined to help with this year's success, including a very dedicated, committed and highly professional staff who got the best out of this year group. The most valuable gift any teacher can give a pupil in the Abbey is their own time and this was given in abundance.
Support from parents was another area highlighted by Mr McGovern that facilitated these results. Parents worked in harmony with the Abbey by attending Parent/Teacher meetings and helping to implement recommendations that were agreed at 'Progress Meetings' set up to support students.
'Top of the Class' is Leo Gorman with twelve A*/A grades (eleven A* and one A). Another five students achieved at least eleven A*/A grades, including: Cormac Begley (seven A* and four A's), Peter Reel (seven A* and four A's), James Haughey (six A* and five A's), James McNulty (five A* and five A's) and Diarmuid Murray (four A* and four A's).
Following the top performers above, six students achieved at least 10 A*/A grades, including: Andrew Hughes, Stephen McKay, Conlaodh Quinn, Rory Watterman, Micheal Moore and James O'Hare. Luke Bradley, Ben Hughes, Niall Jennings, Darragh McClean and Daniel Murdock achieved an outstanding nine or more A*/A grades and another five students achieved at least eight A*/A grades, including: Tiernan Byrne, Matthew Freeman, Conor McAteer, Lorcan Moley and Padraig Murphy.
Pupils in Year 11 have also performed very well after completing numerous GCSE examinations following their first year of study and can look forward to matching this year's GCSE results next year.