FRANKENSTEIN THE MUSICAL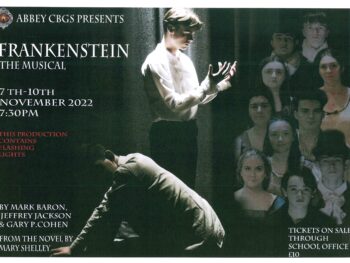 Date Posted: 21st October 2022
Last night we performed Frankenstein the musical for the final time to a 4th standing ovation.
We were so incredibly proud of the pupils of the Abbey, Sacred Heart, Our Lady's and Newry High School, who trusted Mr McParland and myself to pull of a virtually unknown musical and to do it to such a high standard. Every member of the cast and crew were outstanding and an absolute pleasure to watch as their performances and confidence grew every night.
To our wonderful band, thank you. The moments of magic that we watched would not have been the same without you.
Our lights and sound, I hope you agree were fantastic and a special mention to Glenn O'Hanlon and Ronan Wadsworth for keeping our cast with mics all week.
Thank you for supporting us, this has been a long road from September with many, many late night rehearsals but the standard every one of our pupils from years 8-14 has set has been exceptional. I hope the memory of Frankenstein stays with you for a long time. Cast and crew…. We are so proud of you 
---
🔴⚫️🟡Frankenstein The Musical 🎭
Another outstanding performance, another packed hall and another standing ovation. Well done, everyone 👏👏👏
Tonight, was a special one for our school community, as tonight's performance was dedicated to our Daniel Greer #DoItForDaniel.
Whilst Daniel is still undergoing treatment in Bristol, he was very much with us tonight, with the help of some amazing technology. Have a look and listen 👇
The Frankenstein cast were delighted Daniel could be with them tonight and we know he will be back in the thick of it for our next school show.
---
🔴⚫️🟡FEEDBACK FROM A SPECTATOR AT LAST NIGHTS SHOW 👇
An unbelievable show! Huge congratulation to everyone involved from cast, musicians, choreography, stage crew, lights, sound, costume, make-up, set, back stage (not forgetting visual effects too!). Yet again hats off to Mr McParland and Mrs Keenan who don't shy away from a challenge and not only have staged an all but unheard of musical but also enabled the students to achieve such heights in their performance; you could not have anything but admiration for this production that brings you through every emotion but leaves you wanting more! Brilliant!
2 nights left #dontmissout
☎️ 02830263142
❤️🖤💛
---
ABBEY CBGS PRESENTS FRANKENSTEIN THE MUSICAL 🎵
With our last school show in 2019, we are delighted to announce tickets for our upcoming school production of Frankenstein The Musical will go on sale from
📆 Monday 24th October.
Tickets can be purchased from school reception on
☎️ 02830263142 or from our ticket booth at reception.
The ticket booth will be open each morning
⏰8:45-9:00am.
🔴The school show will run Monday 7th – Thursday 10th November.
⚫️Tickets are priced at £10, with the exception of Monday, they are available at a discounted price of £7. The performance begins each night at 7:30pm sharp.
🟡We look forward to welcoming you all to what is set to be another outstanding production from our young people.