Edmund Rice Fun Day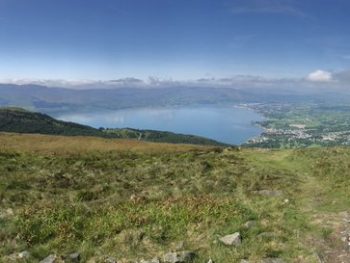 Date Posted: 24th May 2017
This year the Edmund Rice Fun Day was spent in Kilbroney Park. There were a few aspects to the day including a short input about the continuing work of Edmund Rice (Education Beyond Borders) in the Cloughmore Centre, a BBQ for all involved, and prior input from subject departments linking curriculum aspects to the day such as; CS Lewis & Narnia, legends of the Big Stone and Finn McCool, Geography & glaciation. The main event or rather challenge of the day was to go "Beyond the Big Stone" a supervised walk to the Lower and Upper (Kodak Corner) Viewing Points and then on up to the top of Slieve Martin.
The walk was fully supervised with both marshals on route and teachers walking with form classes. It was also differentiated so that shorter routes or if time became a factor return routes back down were available.  Our nurse and other 1st Aiders were on on hand.
Apart from the challenge of "going beyond the big stone", whether to see the beautiful views of the distant Wicklow Mountains to the south and Slieve Donard to the north or just the physical challenge to go further than before, there is another aspect to the day led by APTA. The Abbey Parent Teacher Association have started to raise more money for the school, funds from the Christmas Fair and 1st Year Induction Quiz are going to pay the full costs of the Link Bus (previously paid for by the school to carry boys free of charge @ 4.30pm, who have attended after school activities, down to the bus depot) for the next academic year. If further funds can be raised then they would look to support other initiatives such as the school Eco-Club who want to develop not just an eco-space and garden but improve the facilities in the playground such as picnic bench seating, basketball nets, etc.