Delhi delight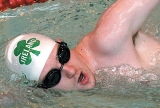 Date Posted: 4th October 2010
Abbey Student Laurence McGivern
ROSTREVOR swimmer Laurence McGivern has created history by becoming the first paralympic athlete to represent Northern Ireland in swimming at the Commonwealth Games.
McGivern flew to Delhi with the Northern Irish team, on Monday.
The 18-year-old swimmer is no stranger to international competition, but the Rostrevor lad admits that the Commonwealth Games will be the high point of his sporting career to date.
He said: "This is a stepping-stone to what I want to be doing in later life, but it is also the biggest competition I have gone to."
McGivern, a double-leg amputee, will compete in the 50-metre freestyle on Wednesday, October 6.
Laurence, who is studying A-Levels at the Abbey Grammar, has been steadily improving over the course of the last two years and posted five personal bests at the National Junior Swimming Championships last year.
"All the training I have done recently has been as much as I have ever done and I am going over to Delhi in great condition."
"I would like to get into the final and it is within reach," he said.
Despite widespread condemnation of the organisation of the Games, Laurence is look forward to the international event.
"I am quite excited. I have never been to India before and it will be good to experience their culture, but I am also excited with the prospect of going to the athletes village," he said.
"It means everything to me and I can't wait to get into the pool and see how things go. It is certainly going to be the highlight of my life so far."
By Newry Democrat