Careers Week in English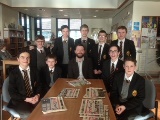 Date Posted: 26th January 2016
During January, our Key Stage 4 and Key Stage 5 pupils were treated to enlightening and inspiring visits from past pupils of the school who all studied English at A Level. They shared their experiences of applying their skills in a range of ways, with a diverse selection of careers spanning choices, such as: business management, law, media and journalism.  Pupils were provided the opportunity to ask questions and learn from our visitors throughout the week.  A big thank you to all of our guests!
Conall Keenan
(Now Studying at QUB- studied A Level English Literature in the Abbey)
Conall Keenan is a past pupil of the school. He left the Abbey at the end of last year having attained an A grade in his A Level English Literature. He is a keen participant on Twitter, having thousands of followers. He works part-time as a 'brand ambassador' for First Derivatives, here in Newry.
 Conan Fegan: Barrister 
Conan Fegan is a past pupil of the Abbey. Having studied Law at University he went on to pursue a career as a barrister. He currently practises both north and south of the border.  Here's what one of our pupil's had to say about his visit:
On the 20th of January, the Year 12 pupils were treated to an informative visit from a local barrister and past pupil who explained fully the duties and responsibilities attached to his role of "Barrister of Law" and the path which he took to achieve this illustrious position.

His views on subject choice were both interesting and thought provoking as he did not rigidly direct the pupils down a narrow pathway of subject choice.

The examples of his own work were riveting and inspiring and it was obvious from his enthusiasm that he derived tremendous satisfaction from his career and this was highly infectious. It made many in the audience seriously consider the possibility of a career in the legal profession.
By Odhrán McCormack 12GS
Donal McMahon 
Donal McMahon attended the Abbey from 1990-1997 before attending QUB to study History and Politics. In 2005 he entered an All-Ireland competition to find ten people who would complete a post graduate course in Journalism. During that time he attended weekly tutorials and participated in shorthand writing classes via video-link. As part of his course he had two six month placements: one with the Down Democrat and one with the Roscommon Herald. Donal currently works for the Newry Reporter  where he writes articles on a range of topics including: murder investigations, court trials, council issues and breaking news.
Gareth Chambers
Gareth Chambers attended the Abbey from 1996-2003 , before completing his BA degree in Television at Bournemouth. He has worked as a script writer, producer and director on a number of films. He completed a one year placement at Channel Four after graduating. His work has appeared at many film festivals and he has also secured funding for a film called 'Loft.' This short film has been screened at the Galway Film Festival. He currently works for his family's sandwich company, Scribbles, and travels frequently as part of his work. Last year he was given the title of Newry and Mourne's Young Entrepreneur of the Year.