Bliain Mhaith do Lucht na Gaeilge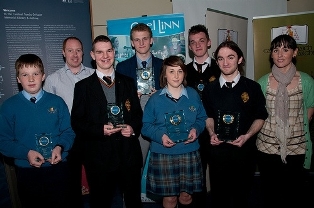 Date Posted: 11th April 2011
ABAIR
While the Irish Department has a history of producing excellent public speakers for Gael-Linn's ABAIR Public Speaking Competition, 2011 will undoubtedly go down as one of the most successful years. Four Abbey students took part in the Ulster Final of ABAIR which took place in Leabharlann Uí Fhiaich in Armagh in April.
With two students represented in each section, James Gallogly and James Meehan in the GCSE section and Seamas McGeough and Connor Hogan in the A-Level section, the competiton was tough with competitors from every Ulster County.
By the time the competition was over James Meehan came 2nd in the GCSE Section and Connor Hogan and Seamas McGeough were awarded first and second places respectively. All three students were also awarded a £270 scholarship to the Gaeltacht.
James Meehan will now take part in the Irish / Scottish Public Speaking Finals which will be held in Dublin in September.
GLEO
For the second time in four years the Abbey have been nationally recognised for their promotion of Irish within the school community. The 2011 presentation of Foras na Gaeilge's GLEO Award took place in the Hogan Suite of Croke Park.
This year's presentation was made by Míchéal Ó Muireartaigh Former RTÉ GAA Commentator and Irish Language enthusiast. During his speech M Ó M spoke about the importance of treating Irish as more than a school subject and he was delighted by the renewed enthusiasm of young people for the language. He spoke passionately about praising the youth in their efforts to speak more Irish.
Ferdie Mac an Fhaili, Chief Executive of Foras na Gaeilge congratulated all 19 schools that were being awarded for their promotion of the Irish Language.
Of the 19 schools presented only 7 of those were Post Primary schools and the Abbey jointly shared the award with Our Lady of Mercy Girls' School in Belfast from Belfast.
Mr D Tennyson, Head of Irish, and four students, Connor Hogan, Seamas McGeough, James Meehan and Conall Havern represented the school at the awards ceremony.