Fr. Colum shares his thoughts at the start of year school Mass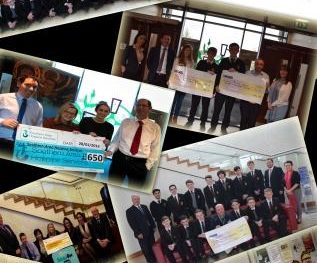 Date Posted: 5th October 2016
Today's Mass is the Mass of Blessed Edmund Rice and the readings are taken from the feast of St Vincent de Paul and the reason these were chosen is because these men cared very deeply about the poor and marginalized and so I want to highlight the many good works of charity that go on in this school. You have so many opportunities to do something for people who are in need while in this school, here in the Newry area, in Ireland or somewhere in the world, and the one that springs to mind immediately is the connection that this school has with Zambia.
But whatever the opportunity you get then all I want to do is to encourage you to take it.
In this place, in your time in this school, you will make decisions and choices that will ultimately define the kind of man you will become. When you leave you will still be by no means a finished product, none of us are, and if you do make mistakes while here then really it is not the end of the world, you always, always have opportunities to put them right and put them behind you. But still, every choice you make for the good of another person, whoever that person may be, or wherever that person may be in the world, affects you deeply and helps form you in becoming a man that you can be proud to be.
And that is why this school is so successful and so renowned, because it gives you not just the opportunities and skills and whatever you need to become successful people in work or in society, but also because its ethos gives you the opportunities to become men for others. Men who know what it means to look out for other people. Men who know what it means to not be selfish. Men who are proud, confident and sure of their place in the world.
Whatever opportunity this school gives you to become more like that, take it, don't let it pass you by, and then live it and be proud of the man it will make you.
Fr. Colum Murphy – School Chaplain September 2016