Abbey Win Ben Dearg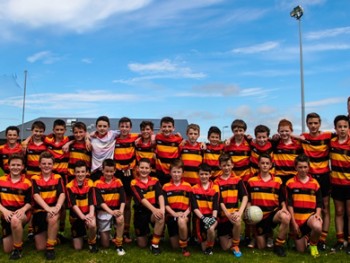 Date Posted: 19th June 2015
Year 8 Ben Dearg final- Abbey CBS v St Colman's College
Friday 19th June at Ballyholland
The Abbey CBS Year 8 team comprehensively defeated their local rivals St. Colman's College on Friday to claim the Ben Dearg trophy by 7-13 to 3-3.
St. Colman's started the match with great vigour and energy which kept the Abbey team on the back foot for the opening ten minutes of the game. They took an early lead with a goal that came from a long punt forward which eluded the Abbey keeper and bounced into the net. This was followed by two more points by the boys in blue and the pressure began mounting for the Abbey boys.
After the initial onslaught from St. Colman's, the Abbey began to put pressure on the College's backline. Two goals in quick succession, from the Abbey's Sean Conlon and a magnificent effort from Ryan Magill, brought the Abbey boys into the lead for the first time. Corner-forward Harry Price also hit a fantastic point from an awkward angle to push the Abbey further in front. From that point onwards, the Abbey forwards kept the pressure on the College's defence and further points from Niall Toner, Eoin Reel, John McGovern and Magill allowed the Abbey to build up a comfortable lead.
St. Colman's rallied late in the first half and added a further point to their tally but it was the stalwart defending from the Abbey backs, Finn Gregory, David Mallie, Thomas O' Malley, Rory Kearney, Orin McKeown and Patrick McCarthy, that prevented the College adding more scores.
From the throw-in to start the second-half, John McGovern skilfully caught the ball and took it through a sea of blue shirts. He finished it expertly, placing the ball into the bottom right corner for a crucial goal that took the sting out the College boys.
Odhran Murdock, in the Abbey midfield, continued to dictate the pace of the game with key passes that led to further scores from Reel, Toner, Magill, Burns and Hegarty. The final moments of the second half saw the Abbey boys rallying to keep St. Colman's forwards at bay as they pushed to get back into the game.
The Abbey team managed the final ten minutes of the game like seasoned county players. They demonstrated great calmness and confidence in moving the ball around the field. John McGovern, Niall Toner, Ryan Magill, Odhran Murdock, Finn Gregory, Joe McAloon and David Mallie battled hard to keep the Abbey lead. The final whistle brought to a close an excellent game which was highly entertaining and played in good spirits between the two rivals. The Abbey boys finished their year on a high and will surely be a team to watch out for in the coming years.
Man of the match: John McGovern
Abbey team: Eoin Hughes, Orin McKeown, Finn Gregory, David Malley, Rory Kearney, Patrick McCarthy, Thomas O'Malley, Odhran Murdock, John McGovern, Joe McAloon, Eoin Reel, Ryan Magill, Harry Price, Niall Toner, Sean Conlon. Subs: Adam Hegarty, Conor Burns, Liam Lundy, Gareth Martin, Adam Markey, Ronan McLoughlin, Danny McKenna, Odhran Doyle, Micheal Coulhoun, Aaron O'Neill, Darragh Melarkey, Rory O'Hare
Coaches: Mr. C. Rooney, Mr. D. McCann and Mr. C. Fearon