Abbey Students stand for Youth Parliament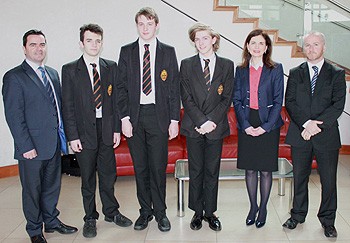 Date Posted: 3rd May 2016
Three Abbey students, Ferdia O'Malley, Christopher Dunne and Alex Moore recently stood as candidates for both the Newry & Armagh and South Down constituencies in this year's Youth Parliament elections. These elections for 11-18 year olds, held during March and April, have been taking place in Northern Ireland since 2012. In total, 12,831 young people from across the province cast their vote.
Whilst none of our candidates were eventually elected, all three developed excellent manifestos based on the issues they felt were of most importance to young people. Christopher Dunne also produced two very professional YouTube videos in support of his campaign.
The eighteen Northern Ireland members of the Youth Parliament will now have the opportunity to champion the voices of young people. They will engage with them in their constituencies and encourage them to take part in the Youth Parliament's UK-wide consultation 'Make Your Mark', in which 41,488 young people from Northern Ireland participated last summer.
The 2016 campaign, #DontHateEducate, is intended to address issues of race and religious discrimination. Previous campaigns have dealt with issues such as mental health, votes at sixteen, education and transport.
This year's Youth Parliament members have also been active in other ways, including meeting local MLAs, hosting a reception at Stormont and lobbying MPs.
Ife Grillo, Vice Chair, Campaigns & Communications at the British Youth Council said, "It's fantastic to see even more young people taking part in Northern Ireland's Youth Parliament elections. Each member of the Youth Parliament can now champion the views of young people with a strong mandate behind them. Congratulations to all the candidates, schools and youth groups who took part in this year's elections."