FRANKENSTEIN THE MUSICAL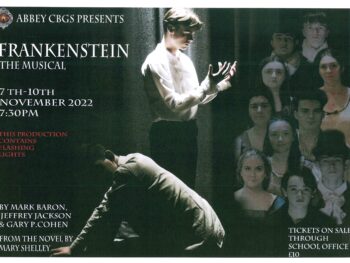 This event has passed.
19:30 - Mon 07 November, 2022
ABBEY CBGS PRESENTS FRANKENSTEIN THE MUSICAL 🎵 With our last school show in 2019, we are delighted to announce tickets for our upcoming school production of Frankenstein The Musical will go on sale from 📆 Monday 24th October. Tickets can be purchased from school reception on ☎️ 02830263142 or from our ticket booth at reception. The ticket booth will be open each morning ⏰8:45-9:00am. 🔴The school show will run Monday 7th – Thursday 10th November. ⚫️Tickets are priced at £10, with the exception of Monday, they are available at a discounted price of £7. The performance begins each night at 7:30pm sharp. 🟡We look forward to welcoming you all to what is set to be another outstanding production from our young people.
This event has passed.