Covid 19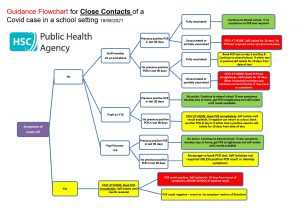 Flowchart covid contacts school August 2021 click for bigger version
https://www.publichealth.hscni.net/

22/09/2020
Dear Parent / Guardian,
Following a number of incidents outside of school where parents have confirmed their son was in contact with someone who has tested positive for COVID-19, the following advice from PHA is for your information:
"In general close contacts are people who had direct face to face contact within one metre of an infected individual for any length of time, including:
a face to face conversation,
being coughed on or
having direct physical contact (skin-to-skin).
People who spent more than 15 continuous minutes within two metres of the infected person are also close contacts."
This contact between the two people will have been in the previous 48 hours before the infected individual showed symptoms or before they took the test which brought a positive result.
If this is the case through sport or other social contact then In line with the national guidance, your son should stay at home and self-isolate for 14 days from the last contact with the case. It is not necessary to seek a test unless symptoms develop. The rest of the family are not required to isolate unless there is a positive case in the household or other close contact is notified.
I hope this helps clarify matters in the midst of conflicting advice being provided from a number of sources.
Seán Sloan, Principal
Dear Parents / Guardians
Please find from the link above, a copy of our updated guidance for dealing with the Public Health emergency regarding Covid 19.
Your son will be familiar with this after his Induction Presentation last week. By putting in place all of these measures and ensuring that they are followed, we are preparing for a safe return to school for all staff and students.
Best wishes to you and your son for the year ahead.
Mr Sloan