Young Scientists at Big Bang Fair 2015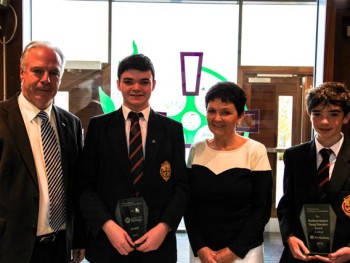 Date Posted: 8th October 2014
Eoin Lane and Oisin McKinley were major prize winners at the recent Big Bang Fair in Belfast. The Abbey boys picked up the Northern Ireland Young Scientists of the year award and will now represent Northern Ireland at the Big Bang 2015 competition in Birmingham.
.
The boys carried out their extensive research on the exposed and sheltered rocky shores of the Northern foreshore of Carlingford Lough. Their project was a study of how the Red Beadlet anemone has modified its resource holding potential and ensured the sustainability of the species.
The students had intense interviews with the judges about their research and findings. They were commended on their very high standard of engagement and knowledge. The judges described the Abbey boys work as ''most impressive'' and encouraged them to continue their research and publish their findings. The boys also received the Society of Biology award for the best biological project in the exhibition. Eoin and Oisin have shown they too have holding potential amongst the best young scientists in Ireland.