Year 8 Charity Success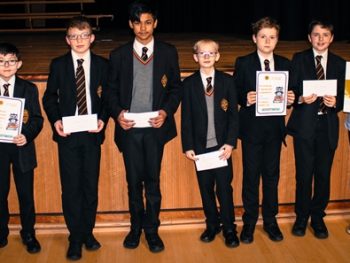 Date Posted: 4th April 2017
Winners of Slemish 8 raffle
It is the tradition in Year 8 for each class to undertake a class fundraising event to support Trocaire and the school's Zambian Immersion Project.  The total amount of money raised by all the Year 8 classes was a fantastic £1362. The breakdown is as follows:
Slemish – £175 Easter Raffle
Iveagh – £78     Guess the weight of the sweet jar
Oriel – £214      Wet sponge teacher challenge
Donard £135   Bun sale
Breffini £725    Raffle for Nintendo Switch
Read on challenge
We are delighted with the total raised in aid of Children's Cancer Fund and individuals were presented with prizes for outstanding evidence pieces submitted to Showbie and for individual fundraising efforts.
Year 8 classes participated in this programme whilst raising a £1405 for the NI Cancer Fund for Children.
Donard 8 winners of Read On Challenge
Donard 8 raised the most amount – £390! They also received 500 bonus merits.