Welcome to the Class of 2023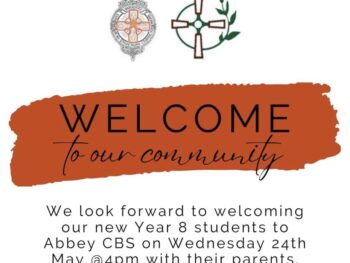 Date Posted: 22nd June 2023
❤️🖤🧡Welcome to the Class of 2023❤️🖤🧡
YEAR 8 TRANSITION / TASTER DAY
Today, (June 22) we welcomed our new 135 Year 8s to their transition / taster day at Abbey CBS. An opportunity for our new Abbey men to get another look around their new home, whilst sampling some of what the Junior Curriculum has to offer.
🚌Bus to Abbey ✅
🍌Home Economics ✅
🧪Science ✅
⚽️PE / Sport ✅
🖥️ICT ✅
🎨Art and Design ✅
Thank you to our amazing staff and senior students / mentors who facilitated another great day for our new recruits.
❤️🖤🧡
---
25th May 2023
Today, a new generation of Abbey students walked through our front doors. We welcome them and their families to our community.
We also look forward to meeting all new students and their parents at our one to one sessions.
Remember to check the day and time of your meeting!
Save the date: 22nd June – Transition Day.  Click for first year induction
❤️🖤🧡