Ulster Schools ALL Star Winner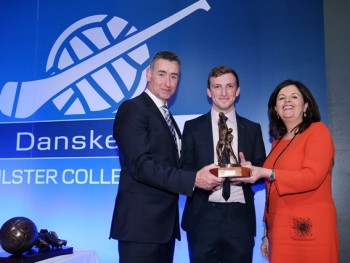 Date Posted: 12th April 2016
Congratulations to MacRory Captain, Patrick Murdock, who collected his Ulster Colleges All Star for full back, on Friday night (4th April) at the Europa Hotel, Belfast.
This is Patrick's third season with the Abbey MacRory Cup squad and he has played for Down minors during the past two seasons. His club is  Cumann Peadar Naofa, Warrenpoint
With Cumann Peadar Naofa he is the proud holder of a Down minor championship medal from 2012 and an under 21 championship medal in 2014.
This is the 28th year of the Ulster Colleges' All-star scheme. Players are selected over the course of two trial games, after being initially nominated by their own school to attend the trials.
The scheme rewards excellence in skill and in sportsmanship.
Mattie McGleenan, Chairman of the Ulster Colleges' Council, congratulated the recipients.
"This team has players from eight of the nine counties and are taken from twelve different schools. The lads have gone through a tough selection process and can be proud of their selection in such an elite team."
Brenda Kerr, Strategy and Planning with Danske Bank added her congratulations.
"The Ulster Colleges' All-Stars is an outstanding initiative and something that we at Danske Bank are extremely proud to be part of.  The commitment and dedication required to even be nominated for an All-Star award is immense and I would like to congratulate all of the players who were selected to participate in the trials, as well as the 15 outstanding players we are honouring."
Colleges' Football All-stars 1988 – 2016
Abbey CBS, Newry          47