Success for Abbey at Féile Scoildramaíochta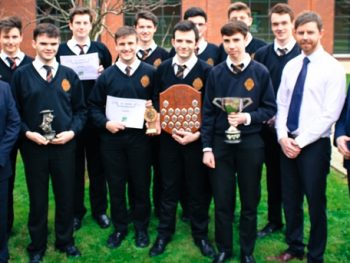 Date Posted: 4th April 2017
The Irish Department in the Abbey Grammar School is celebrating following the on stage success of their year thirteen Irish class at Féile Scoildramaíochta.
Last week at the Ulster Festival, held in the Marketplace Theatre, in Armagh, the Abbey scooped top prize for Scóth Léiriú na Féile  (Overall Best Play in the Festival). From the twenty eight plays in the festival, including a high propotion from the Donegal Gaeltacht, the Abbey's hilarious take on the public exam process was judged to be the best.
The production of an Scrúdú Béil, written by former Head of Irish, Seán Mac Labhraí, is directed by the current Acting Head of Irish, Mr. Seán Gallagher.  The cast is made up exclusively of Year thirteen Irish pupils and features, the wily Br. Ó Múrchú, the officious examiner, an tUasal Mac Giolla Phádraig and a selection of pupils who seem unlikely to progress much further down the road to Irish speaking fluency.  With the standard of exams getting progressively worse and the examiner's patience all but disappearing, how will Br Ó Múrchú  get his charges across the line to exam success?
The show now moves to Mullingar on the 26th April, when the Abbey will represent the area in the National Féile Scoildramaíochta.