SOS Empowerment Programme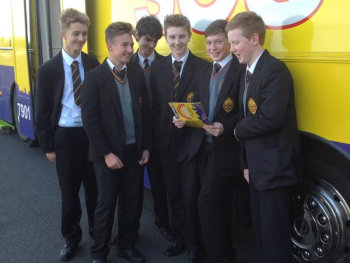 Date Posted: 15th September 2015
On Tuesday 15th September our year 11 students took part in an education awareness programme based on Alcohol. This was provided by the SOS Bus team.
SOS NI is a volunteer centred charity that is making a real difference to children, young people and adults on the streets of Belfast during the night time economy period. It offers a unique mobile service that can be located wherever it is needed. Trained volunteers and medical staff operate from specially designed and equipped vehicles deploying satellite foot and mobile patrols to extended areas of need. This ensures that professional caring services are delivered to the vulnerable in times of crisis when required.
 SOS NI believes in partnerships and works with other voluntary organisations, the emergency services and statutory bodies to create a safer place for everyone. It is committed to growing and delivering this help wherever it is needed.
What is the Schools Education and Empowerment Programme?
The Schools Programme vision is to work together in our schools to empower young people to help them make better lifestyle choices. SOS NI Schools Programme creates the space needed to build the trust that allows engagement in a meaningful way. We are changing behaviour and enabling young people to make better decisions impacting the communities in which they live. The specific objectives are to:
1. Increase young people's knowledge and understanding of the effects of alcohol consumption on themselves, their family life and wider community.
2. Inform young people how to recognise and deal with a risky or dangerous situation that involves alcohol or drug misuse.
3. Actively engage parents providing them with the tools to improve communication with their children in their home and to help them discuss difficult issues with more confidence.
For more information SOS BUS Website