Smashed project visits the Abbey.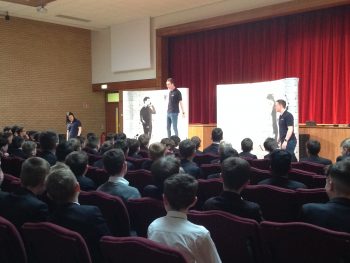 Date Posted: 1st May 2018
The Smashed Live project visited the Abbey recently to present its theatre performance, interactive workshops and teaching resources to our Year 9 students. The project engages pupils creatively in a safe and motivational learning environment, enabling them to explore the dangers and consequences of underage drinking and equipping them with the facts, skills and confidence to make responsible choices around alcohol at a young age. All students had completed a pre-evaluation form to gauge their attitudes to and knowledge of alcohol and surrounding issues.
Part one of the workshop entailed a high- energy theatre performance based around three friends and their relationships with each other and alcohol. Part 2 was an informative question and answer session which was very beneficial to the students.
The workshop was extremely worthwhile and very informative for our students.