Yr9 student Philip Small shares his thoughts on the recent visit of the Smashed Project to the Abbey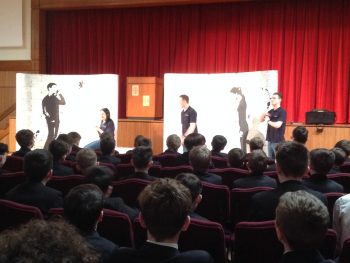 Date Posted: 9th May 2018
My Smashed Project Reflection by Philip Small, Slemish 9
The aim of the Smashed Project is to educate children of all ages, but particularly young people aged 12 and 13, about the dangers of drinking, especially underage drinking, through the medium of drama.
It can be difficult to teach 12 to 13 year olds about such a serious subject whilst still managing to make it fun but, in my opinion, they communicated their message very well. There were three actors in total: Leigh Manning, Rachel Galloway and Dan Coulter.
They began by introducing their characters. Lee is an unemployed high school dropout who drinks away his problems and buys alcohol for his few, so-called "friends" who are just 16 years old.
As the play went on we started to see everyone for who they really were and not just a projected persona. For example, we find out that one of the characters, Scott, who is about to sit his GCSEs, doesn't want to drink, but has a crush on the girl in the group and is pressured into drinking by her.
I thought this raised a very important point as it shows that not everyone who drinks necessarily wants to and it's OK to say "no". A fight then occurs between the two male characters and when the girl, Michelle, tries to intervene she ends up being hit and falls on broken glass, leaving her with life-changing facial injuries.
The emergency services and police are called and the subsequent criminal charges could also have life-changing consequences for the two male characters. Scott, remember, is underage. He has to sit his GCSEs shortly and all this distraction, along with the effect that alcohol is having on his mental health and well-being, is the last thing he needs at this important time.
At the end of the play the audience was asked who they thought was at fault for Michelle getting hurt. They tried to get responses from as many Year 9 Abbey students as possible and then acted out the suggested scenarios that could have changed the course of events that night.
Even though they were on a tight schedule they left a lasting message:
Drinking alcohol isn't the worst thing when you're old enough and over the legal drinking age. However, you must not act illegally by purchasing and consuming alcohol before the age of 18 and you must treat alcohol with respect.
We also saw how someone who is bright and talented can have their dreams washed away by underage drinking and how it can prevent people from achieving their goals.
In conclusion, I thought that the Smashed Project was amazing. I loved the concept and the points that were made. After completing the evaluation sheet again following the presentation I realised how much I had learned and how much my thoughts on alcohol had changed!