Senior Leadership Team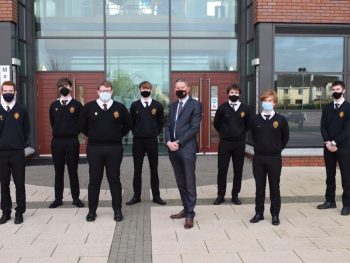 Date Posted: 25th March 2021
Conor Boyle, former UK Youth Parliament representative, is our Head Boy and along with the other members of the SRC have supported their fellow students in representing issues and bringing them to the Senior Leadership Team, negotiating practical solutions to support the well-being of the student body.
The council has been working in very different circumstances this year and adapted well to the strange times including an initiative to raise the student voice.
The Council met with various representatives of different year groups and then put a proposal to the Principal and Board of Governors to become affiliated to the Secondary Students' Union of Northern Ireland.
They have been successful in this endeavour and now the Abbey student body can benefit from this association.
The other members of the council in the photo are Tiernan Kearns (Deputy Head Boy), Cillian Quinn (Deputy Head Boy), Hareth Khan, Padraig Corrigan, Tomas McKay, Shane Thornton and Francis Farrell.