RANNAFAST CUP Q Final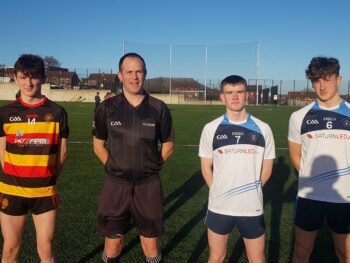 Date Posted: 29th November 2022
RANNAFAST CUP 🏆
St. Mary's Magherafelt 2-20
Abbey CBS Newry 3-12
(After Extra Time)
St Mary's Magherafelt came from five points down after 52 minutes of this Danske Bank Rannafast Cup quarter-final yesterday at Coláiste Feirste to force extra time. They then finished strongly with the final five points of extra time to clinch a semi-final spot against St.Macartan's Monaghan in the next round.
But that doesn't tell the whole story of a dramatic and entertaining tie.
The Convent took an early lead with a goal from Patrick Birt and that score separated the teams until close on half-time when Adam Gibbs-McCann fired in two goals to send the Abbey in with a lead of 2-5 to 1-5.
That three points' lead was maintained through the third quarter. Then Abbey to turn over possession and Aaron Magennis grabbed a third goal and Paul McGovern quickly added a point to make it 3-9 to 1-10.
The Convent response was quick, a goal from James Sargent two minutes later and they tagged on three points in a row to take the lead just into injury time. However Paul McGovern sent the game into extra time with a late Abbey point, 3-20 to 2-13.
The teams traded scores during the first half of extra time before scores from Birt and Rory Small pushed the Convent ahead at the change of ends, 2-17 to 3-12. The south Derry school then added on the only three scores of the second half through Eamon Young, Dara McGuckin and James Sargent.
St Mary's: P Birt (1-7, 0-4 frees), J Sargent (1-3), E Young (0-5, 2 frees), F Logan (0-2), R Birt (0-1), R Small (0-1), D McGuckin (0-1)
Abbey: A Gibbs-McCann (2-0), A Magennis (1-3), P McGovern (0-5, 2 frees), C McGeogh (0-3), C McGrath (0-1)
Derry GAA | Armagh GAA | Down GAA | Ulster GAA