OUTSTANDING GCSE RESULTS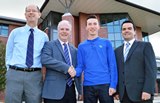 Date Posted: 22nd August 2014
OUTSTANDING GCSE RESULTS IN ABBEY GRAMMAR SCHOOL
Fifth year students at the Abbey Christian Brothers' Grammar School, Newry are celebrating after receiving their GCSE results last week.
A delighted Headmaster, Mr Dermot McGovern, thanked staff and parents and congratulated all the students who received GCSE results, not only the boys who had done exceptionally well but also the boys who had done as well as they possibly could. He believes that a number of factors have combined to help with this year's success, including a very dedicated, committed and highly professional staff who got the best out of this year group. The most valuable gift any teacher can give a pupil in the Abbey is their own time and this was given in abundance.
Support from parents was another area highlighted by Mr McGovern that facilitated these results, working in harmony with the Abbey by attending Parent/Teacher meetings and helping to implement recommendations that were agreed at 'Progress Meetings' that were set up to support students.
37 students achieved at least 8 A*/A grades. Top Pupil was Ronan Lavery who achieved an outstanding 12 A* grades. Another 12 pupils achieved at least 11 A*/A grades, including Daniel Darragh, Aodhan Donnelly, Conor Fegan, Tirnan Forde, Conor Foster, Jack Hegarty, John Kearney, Niall Lennon (11 A* grades), Kevin McCumiskey, Matthew O'Donovan (11 A* grades), Daire Rooney and Brian Smyth.
Following the top performers above, five students achieved at least 10 A*/A grades, including Colum Donnelly, Conor Keenan, Conor McCusker, Jonathan Reynolds and Kevin Waterman.
8 students achieved an outstanding 9 or more A*/A grades, including Ben Crozier, Andrew Gibson, Se Irwin, Caoilte Jackson, Mark Keenan, Declan Murdock, Callum O'Neill and Ronan Reel.
The following students achieved 8 or more A*/A grades, Anthony Crilly, Michael Jordan, Rossa Maccarrain, Paul Markey, Odhran McCaffery, Myles McGeeney, Josh McKee, Matthew McKevitt, Conor Nugent, Joseph Poucher and Nathan Wray.
Pupil's in Year 11 have also performed very well after completing numerous GCSE examinations following their first year of study and can look forward to matching this years GCSE results next year.