MacRory Cup – A History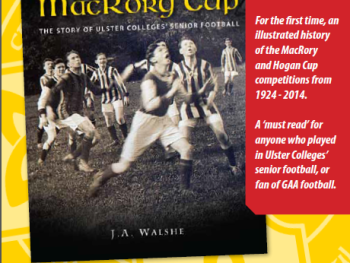 Date Posted: 14th November 2014
Book Launch At Abbey
Monday 24th November 2014 sees the launch of an exciting new book, written by Mr Aidan Walsh, MacRory Cup – A History. We are privileged to be one of the venues to host this launch.
The launch will take place in the assembly hall at 7pm sharp.
If you would like to attend, please email [email protected]
Monday 24th The MacRory Cup is the most coveted prize in Ulster Schools, and is second only to the Ulster Senior Football Inter-county Championship in terms of history, prestige, standards, and public acclaim. The Final is played each year on 17th March, and attracts an attendance in the region of 5,000 as well as a substantial TV audience.
The origins of the MacRory Cup date back to 1917 when the Headteachers of the two leading diocesan boarding schools, St Patrick's Armagh and St Macartan's Monaghan, agreed to hold an annual Gaelic match between their schools. They were soon joined by St Patrick's Cavan, St Columb's Derry, St Malachy's Belfast, and St Colman's Newry, all also diocesan boarding schools, and Dr MacRory, Bishop of Down and Connor (and later Cardinal in Armagh), presented a trophy for this annual competition.
The 1930's was notable for the affiliation of a number of Christian Brothers' schools. These were 'day schools' (i.e. non boarding schools) which catered mainly for boys from humble backgrounds, but they did not yet have the prowess to compete with the established diocesan colleges, as was confirmed by comprehensive defeats for Monaghan CBS (1935), and Abbey CBS (1944 and 1947).
1954 was a watershed year in that the triumph of Abbey CBS after a replay over St Patrick's Cavan was the first MacRory Cup win by a 'day school'; the Abbey repeated this feat in 1959 and 1964, but no other day school made the breakthrough until St Mary's CBS in 1971; next came Omagh CBS in 1974. This legacy lives on for Abbey students.