Love for Life at The Abbey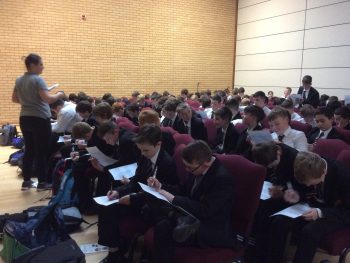 Date Posted: 27th November 2018
The Love for Life team visited the Abbey recently to speak to our Yr8 and Yr10 groups about a range of topics including relationships, influences in our lives and making the right decisions.
Below are a selection of responses from Yr8 and Yr10 students who attended.
Louis Smith Iv8
Love for Life is an independent Christian Charity working to equip young people with knowledge, skills and values necessary to make good choices when it comes to relationships and sex.
When Love for Life came to my school, the Abbey Grammar, they taught us that everyone is unique and to try to feel empathy to other people. They also discussed the fact that we will go through big changes soon, things we need to be aware of and what we need to do. Peer pressure and how to deal with it was also looked at as well as being safe online. We also need to be careful not to get addicted. The presentation also covered the importance of making good life choices involving relationships, finding solutions to conflicts and much, much more.
I hope they come again!
Michael Donnelly Do8
The Love for Life team (one gentleman and two ladies) came into the Abbey to speak to the Year 8s. They told us a story about two children called Oscar and Martha who had also moved into secondary school. The story was told to help us see how peer pressure might influence our behaviour as Martha and the other girl were nasty to each other on social media. It also helped us to understand how our life is changing and things that might happen to us.
They explained everything very well and really got the message across. I learned not to hurt my friends' feelings and to think before speaking or before writing comments on social media. They talked to us about what true love really is: it is loyalty, happiness and kindness. They also gave us different scenarios and we had to decide who we would talk to if this happened in real life.
If I was to rate the presentation, I would give it a ten out of ten because I really enjoyed it!
Michael Hearty 10 DO
A group of people came to our school and gave us a talk called Icebergs and Babies. In this talk they informed us about STIs (sexually transmitted infections), the age of consent, the legal age to send a sexual image, the dangers of alcohol when it comes to sex and they told us about underage sex.
During the talk we followed the story of two fictional characters called Oscar and Martha. Oscar and Martha first met at a party and quickly became close. They start going out on dates, meeting up a lot and texting each other frequently. One night Martha is baby sitting and invites Oscar over. On the way Oscar runs into his older cousin who buys alcohol and persuades Oscar to take it with him when going to see Martha. They watch a movie, and with alcohol added to the mix they end up having underage sex. The two are only fourteen and fifteen!!
I really enjoyed this talk because of a number of reasons. First of all, I liked the way the speakers were young and could connect with a young group. I also liked that the talk was very informative, fun and detailed. It also got its message across very easily. After the talk I was confident that I knew the dangers and problems underage and unprotected sex can cause. They talked about things we could do and procedures we can take to stop these from happening. In conclusion I really enjoyed this talk and I have learned a lot from it.