launch the 40th AADE Teachers' Exhibition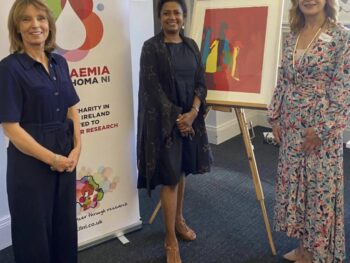 Date Posted: 25th September 2022
🔴⚫️🟡Ms Hughes, Head of Art & Design and current President of the AADE (Association for Art & Design Education) was delighted to help launch the 40th AADE Teachers' Exhibition at Holywood Library on Saturday.
Also speaking at the launch was Brigid Napier, representative from Ms Hughes' chosen charity Leukaemia & Lymphoma NI. Also present to officially open the exhibition was artist Anushiya Sundaralingem.
As well as a bucket collection, a percentage of sales will go to the LLNI. There were lots of purchases on Saturday which was wonderful.
Let's hope attendance at the exhibition this week is good and people give generously. Please support if you can 👇