'Lá na Gaeilge'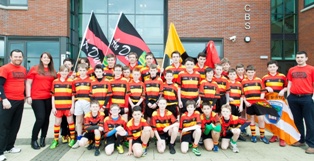 Date Posted: 20th March 2014
Abbey CBS welcomes Rith 2014 to Newry during
'Lá na Gaeilge'
30 proud Abbey students, along with Irish Teacher Mr Seán Gallagher, officially welcomed the Rith 2014 to Newry on Friday 14th March 2014. Rith 2014 is a national festival aimed at encouraging the use and the speaking of the Irish Language.
1000km were run through 15 counties from the 1-15th March 2014, it started in Baile Bhuirne, Cork and finished nine days later in Belfast. Oisin O'Callaghan, Year 12 Abbey Student and Ulster Track and Field champion carried the Baton into Co. Down. Contained within the Baton was a message of support from President Míchéal D Higgins as it made its journey from Cork to Belfast.
The Rith 2014 event was a central part of the Abbey's Lá na Gaeilge celebrations. As well as a Year 8 fun quiz, the Abbey welcomed Lynette Fay, Seachtain na Gaeilge Ambassador and BBC Radio Ulster presenter. Lynette spoke to Year 9 students about her experience of Irish Language media broadcasting and how it has allowed her to travel the world as a Radio Presenter and Programme Producer. Presenting 'Cúpla Focal' badges to Year 9 pupils she encouraged pupils to carry their Irish with them throughout the school.
Abbey Pupils running Rith 2014 .

Year 8 Irish Table Quiz winners pictured with Mr Dessie Tennyson, Head of Irish, Caleb Quigley, Cathal Brennan, Daniel McEvoy, Tom Comer, Keelan McParland