Irish Public Speaking Success in Abair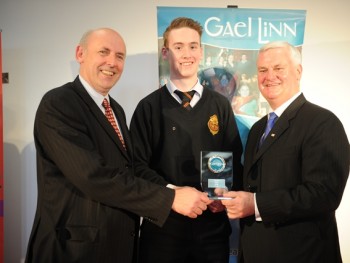 Date Posted: 10th May 2016
The Irish Department have a history of producing excellent public speakers for Gael-Linn's ABAIR Public Speaking Competition, and 2016 was certainly no different.  Five Abbey pupils made it through to this year's final that took place in the superb surroundings of Garvaghey GAA centre in Tyrone.  Each pupil was tasked with speaking for 3-4 minutes on a topic of their choice.
All five Abbey students; Eoin Lane, Conor Lavery, Ryan McKeown and Ronan Lavery did remarkably well.  With four separate sections, Abbey students managed to pick up three awards within two sectors. Conor Lavery's speech, entitled 'Fringegate', was a satirical presentation of the rise of the grouping, 'Anybody but Tyrone'. Conor came second in Roinn B and was awarded a £282 scholarship to the Gaeltacht.
Tiarnán Smyth, in his first year in the competition, was awarded second place in Roinn C with his speech on the 'Kevin Bell Repatriation Trust'.  Tiarnán also benefitted from a £282 scholarship to the Gaeltacht. Finally Ronan Lavery made it a clean sweep with a superb speech on 'The Number 12'.  Having taken part in the competition three years in a row, he was awarded 1st Place in Roinn C.
The competition was tough with competitors from every Ulster County and Co Louth.  Gael-Linn's Abair competition has gone from strength to strength and pupils for English Speaking and Irish Speaking Post Primary schools from both the Gaeltacht and the Galltacht taking part.