GCSE Success for Irish Medium Students in the Abbey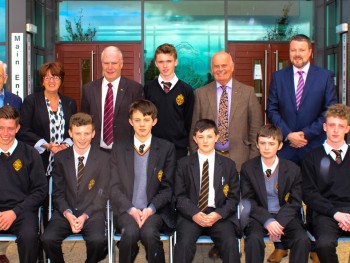 Date Posted: 8th September 2015
The Abbey have a recent but proud tradition of providing for those children that transfer from our two local Irish Medium schools; Bunscoil an Iúir and Gaelscoil Phádraig Naofa in Crossmaglen.
Irish-Medium students or 'Gaelscoláirí' as they are referred to in the Abbey follow a distinct Irish programme. Year 8 and Year 9 Gaelscoláirí follow the GCSE Irish programme. These students complete four controlled assessments over this two year period and will formally enter for GCSE Irish in the summer of Year 9. Alongside their GCSE Irish work pupils are encouraged to read Irish language novels and articles and to attend the Gaeltacht during the summer.
GCSE Gaeilge, tailored exclusively for Irish Medium pupils, is then offered as a separate subject in Year 11 and Year 12 and pupils then transfer to AS and A2 Irish in Year 13 and Year 14.
Congratulations to Tomás Hughes, Cormac Donnelly and Ger Feehan, having successfully completed GCSE Gaeilge and are now studying A-Level Irish. Year 10 students; Dara O'Callaghan, Jordan Smith, Caolán McCartan and Paul Kelly excelled in GCSE Irish at the end of Year 9 and are congratulated by Mr Dessie Tennyson (Head of Irish), Mr Dermot McGovern (Principal) and members of Craobh an Iúir; Séamas MacDháibhéid, Seoirse Ó Dufaigh, Celine Bn. Uí Fhiacháin.