EXCELLENT SET OF A LEVEL RESULTS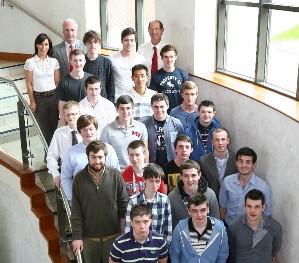 Date Posted: 7th August 2012
THE CLASS OF 2012 DELIVER AN EXCELLENT SET OF A LEVEL RESULTS
The Abbey Christian Brothers' Grammar School, Newry is celebrating yet another exceptional set of A-Level results.
A highlight for the 'Class of 2012' is that a quarter of Upper Sixth achieved at least one A* grade. The examining boards introduced this new level recently to acknowledge 'super A grades'. Candidates must achieve 90% in their A2 exams to be awarded this. As competition for 'high demand' university courses rise, candidates are under pressure to meet third level offers. With 10% of total grades being A*, Abbey pupils have continued to obtain their first choice university course.

Aaron Maguire ALevel 1st Religious Studies WithMrMcGivern & MrsMcKeever
Pictured Aaron Maguire ALevel 1st ReligiousStudies With MrMcGivern & MrsMcKeever
Another sixteen pupils achieved at least three 'A' grades. Jake Magill obtained three A* grades. Connor Hogan, Paul McAleenan and Niall McShane obtained two A* grades, an A grade and a B grade each. Turlough Madden obtained two A* grades, an A grade and a C grade. Raymond Burns, Ciaran Davies, David Ward and Michael Haddad obtained two A* grades and an A grade each. Colm Fegan, Aaron Maguire and Neil McDonald obtained an A*grade and two A grades each. Caolan Magee and Neil McConville obtained three A grades and a B grade each. Declan Doyle obtained three A grades and a C grade. Sean Fearon obtained three A grades.
ShaneMcKeown_GCSE Maximum Marks Art&Design With MsHughes

Pictured ShaneMcKeown GCSE MaximumMarks Art&Design With Ms Hughes

Sean Rooney ALevel 1st Music With Mrs Palmer & MrWadsworth
Pictured SeanRooney ALevel 1st Music With Mrs Palmer & Mr Wadsworth
Mr Dermot McGovern, Headmaster, congratulated this exceptional group on their results. He indicated that virtually every boy achieved his first choice university place. He was also delighted with the Lower Sixth performance in their AS examinations as they now have the potential to outperform this year's A-Level results next year. He paid tribute to his hard working staff, both teaching and support staff and thanked them for all their efforts and dedication to the welfare of their students. He also acknowledged the strong school-parental links that helped the boys to achieve their best.

Pictured Tianyu Guo ALevel 2nd Physics With M rPatterson & Mr Hamill
A total of twenty six pupils achieved three or more A's. Ten pupils achieved at least four 'A' grades. Sean Rooney and Terry Guo obtained four A* grades. Stephen Grant, Oskar Mamrzynski and Shane McCartan obtained two A* grades and two A grades. Peter Delahunt, Niall McArdle, Gareth Rooney and Benjamin Sutherland obtained an A* grade and three A grades each. Michael McKay obtained four A grades.