EXCELLENT GCSE RESULTS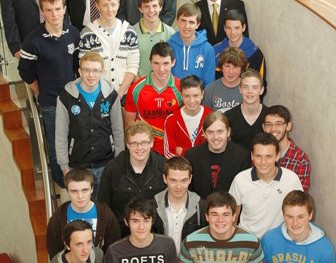 Date Posted: 25th August 2011
PRESS RELEASE THURSDAY 25th AUGUST 2011
EXCELLENT GCSE RESULTS SHOW INCREASE IN TOP GRADES IN ABBEY GRAMMAR SCHOOL
GCSE 2011
Fifth year students at the Abbey Christian Brothers' Grammar School, Newry learned that they have created their own little piece of history when they received their GCSE results last week. This group have achieved a new record for the greatest number of students obtaining 5 or more passes and 7 or more passes for the whole year group. 100% achieved five or more A*-C grades. The number of pupils who achieved seven or more A*-C grades has increased to 96%.
97% of the total grades are A*-C . 80% achieved A*-B grades and an astonishing 46% achieved A*/A grades. 40 students achieved at least 8 A*/A grades.
Six students are the 'Top Achievers' in this year's GCSE examinations. They achieved 12 A*/A grades. They include Cailum Finnegan (11 A* and 1 A), Matt Kinsella (10 A* and 2 A's), Darren Brady (7 A* and 5 A's), Paul McKeever (5 A* and 7 A's), Conor Tinnelly (4 A* and 8 A's) and Cathal Grant (2 A* and 10 A's).
Following the top performers above, fourteen students achieved at least 11 A*/A grades, including Aaron Beattie, Peter Doran, Declan Garvey, Paul McCabe, James McCartan, Kieran McKevitt, Connor McShane, Declan McShane, Bryan Murphy, Cathal Murphy, Mark Rafferty, Joseph Reynolds, Paul Sweeney and Gregory Wallace. Another three students achieved at least 10 A*/A grades, including James Gollogly, Cathal McKeown and Patrick Tiernan.
Paul Hearty, Kaming Liu, Caolan McCann and Abeer Shahid achieved an outstanding 9 or more A*/A grades and another 13 students achieved at least 8 A*/A grades, including Peter Brady, Micheal Campbell, Tiernan Connolly, Caolan Daly, Conor Hoey, Stephen Hughes, Jack Maguire, Ryan Mathers, Conor McCartney, John McKevitt, Neil McParland, Jonathan O'Hare and Colin Rice.
Students will choose four A levels from a range of 27 subjects available, including History, Geography, Art, Drama and Theatre Studies, Business Studies, Accounts, Mathematics, Further Mathematics, Irish, French, Spanish, ICT, Chemistry, Physics, Biology, Design and Technology (Systems and Control), Design and Technology (Resistant Materials), Religious Studies, Government and Politics, English Language, English Literature, Physical Education, Music, Sociology, Psychology, Engineering and Construction.
A delighted Headmaster, Mr Dermot McGovern, thanked staff and parents and congratulated all the students who received GCSE results – not only the boys who had done exceptionally well but also the boys who had done as well as they possibly could. He believes that a number of factors have combined to help with this year's success, including a very dedicated, committed and highly professional staff who got the best out of this year group. The most valuable gift any teacher can give a pupil in the Abbey is their own time and this was given in abundance.
Support from parents was another area highlighted by Mr McGovern that facilitated these results, working in harmony with the Abbey by attending Parent/Teacher meetings and helping to implement recommendations that were agreed at 'Progress Meetings' that were set up to support students.
Pupil's in Year 11 have also performed very well after completing numerous GCSE examinations following their first year of study and can look forward to matching this years GCSE results next year.