EUROPEAN DAY OF LANGUAGES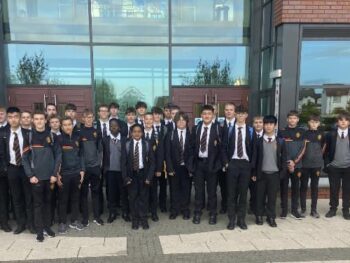 Date Posted: 26th September 2022
EUROPEAN DAY OF LANGUAGES
Bonjour! Monday 26th September is European Day of Languages.
1️⃣Pictured is a selection of the 67 students who speak one of 16 additional languages as well as English.
2️⃣Pupils in the French Department have been enjoying fun-filled lessons today with trivia on languages, quizzes, songs and French tongue twisters!
3️⃣Staff were provided with a selection of continental treats to enjoy at break-time.
4️⃣Eddie Murphy, Donard Three, is congratulated on his 'Scóthscoláire' award (Top Pupil of the course) from Dún Lúiche Gaeltacht, by Head of Irish, Mrs Mc Clean and Mr Gallagher, Principal of Coláiste an Phiarsaigh.