Education Minister Peter Weir visits Abbey CBS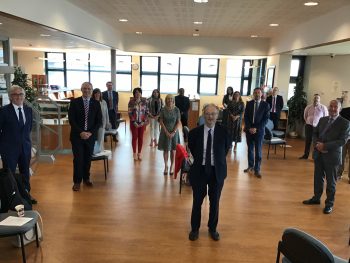 Date Posted: 13th June 2020
Context of  The Minister's visit in connection with the production of PPE by schools in the Newry Area
Today is a day of celebration and collaboration. The celebration of schools centred in their communities stepping up when they were most needed in a time of unprecedented crisis.
Four schools responded directly to the extreme shortage of PPE, Our Ladys, Abbey, St. Marks and St. Marys in producing face visors for key workers in hospitals, medical centres, care homes, community and businesses.
This was in response to individual pleas and the imagination and vision of the teachers within these schools.  In one school, a letter from a pupil to his teachers immediately brought about the desired response where his mother and fellow workers were provided with much needed protection.
I believe somewhere between 6000 and 10,000 face shields have been produced and immediately put into good use. Easter holidays, such as they were this year were forgone with teachers working every day to support our key workers. As commerce has caught up with the pandemic, schools have thankfully now been able to step back.
The story goes much further than the individual schools involved in the production. When initial supplies of materials were running low, each school in the learning community stepped up and donated any materials required.
I believe St. Colman's and the Abbey are fierce sporting rivals but within an hour of a WhatsApp message being sent out a van load of acrylic plastic arrived from St. Colmans to the Abbey. The rumour of only Blue and White materials, (the school colours), being delivered I hope is just a rumour. I don't know what Technology departments in this area are going to design and make next year as all the area's plastic is out there in the form of visors.  No doubt the same resourcefulness will manage to source materials. I also pay tribute to all the local businesses who generously provided large quantities of materials through the networks of past pupils and parents.
I would also like to pay tribute to the schools for looking after the children of key workers and vulnerable children. I know staff volunteered to come in and look after these children and continue to do so. Some also during the holidays and weekends.
I know as a community you work very closely together and I have been made aware, particularly during the early stages of the lockdown, that each evening, day and weekend you were constantly in contact with each other through Whatsapp and email, supporting each other and constantly sharing ideas.
Educational policy over the past number of years through, Together Towards Improvement and Every School a Good School cites " A School Centred in its Community" as an element of quality education.
This learning community through its network of schools in years to come can look back and when the question is asked of what did you do during the crisis? You can all say collectively, we supported our community!
This learning community is a great example of a network of schools Centred in their Communities!
I felt it necessary today to take some time out and thank you on behalf of my department and on the behalf of the very many parents, families, past pupils and local communities for the fantastic contribution you have made in the midst of very difficult circumstances. I applaud you all for your endeavours.
The 15 principals of the Newry Area Learning Community also had time to address a series of pressing questions to the minister related to the current pressing circumstances affecting education.