Creativity & expression thrive in the Abbey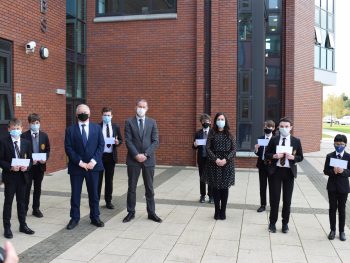 Date Posted: 20th May 2021
Creativity & expression through the curriculum continues to thrive in the Abbey
During lockdown the certain departments focused on practical activities for the Key Stage 3 on-line learning last term to add variety to their schedule day of home study experience. These creative subjects help develop vital life skills such as communication and teamwork as well as promoting their mental health and well-being through the creativity and expression.
Art, Music, Drama and Food Nutrition departments held competitions that engaged the younger students, stretched their imaginations, widened their learning experience and often enhancing their engagement with their families in their learning. Below are some of the winners with their prizes.
The Department of Art & Design issued a competition, with a different task set for each year group. Year 8 designed a colourful Easter card, Year 9 created a self-portrait in the style of artist Modigliani and Year 10 created an imaginative design for a new soft drink.
Congratulations to all those students who got involved and particularly to the prize winners for their fabulous submissions. In the photo are: Oscar Martin (Yr.8), Alan Sikora (Yr.9) & Ben Browne (Yr.10) the winners along with Ms Hughes (Head of Art) and Mrs Woods (Art teacher), Mr Sloan (Principal) and the runners-up; Denis Lenkutis, Daniel Sloan, Ethan Lavelle, Harry Mooney, Daniel Burns, Tiernan Morgan, Charlie Campbell, Richard Cowan, Luke Cunningham, Kristupas Kalinauskas, Jay Smyth, Robin Hamill, Keith Rice, Euan O'Neill & Tom O'Sullivan.
Pictured are the winners of the KS3 Music Makers Challenge completed during Remote Learning, where students performed well-known songs, both popular and traditional, and then composed their own remixes using Music Technology. Many showed great originality and talent with the winners receiving music vouchers.
Well done to the boys who showed wonderful creativity and innovation! Pictured are winners Ryan McGarry (Yr10), Aaron Hughes (Yr.9) & Odhran Reel (Yr8) along with the runners-up Jack Hoy, Joseph Murphy, Tom Magill & Ethan Voo. Also in the picture are Mrs McCoy (Music Teacher), Mr Wadsworth (Senior Teacher) and Mr Sloan (Principal)
These pupils are the top picks for the most consistent and highly creative work done at KS3 for Drama during the recent period of Home Learning. Tasks ranged from script development and stage design to puppetry and video performance work.
The standard of work was exceptional. Top drama students in the picture are Fionn McGuinness, Michael Sullivan, Senan McCorry, Ronan Lynch, Jimi Murphy and  Nathan Troy along with Mr McParland (Head of Drama) and Mr Sloan (Principal)
Congratulations to the following boys for their fantastic work in the Food and Nutrition 'MasterChef' competition over lockdown. The boys cooked and baked a variety of tasty and nutritious dishes, which were of exceptional quality!  Well done, everyone! The winners included in the picture are 1st years Arcadie Rotari & Denis Lenkutis and 2nd years Alan Sikora, Conor Hughes- Johnston, Richard Cowan & Niall Martin along with Mrs O'Donovan (Head of Department) and Mr Sloan (Principal).